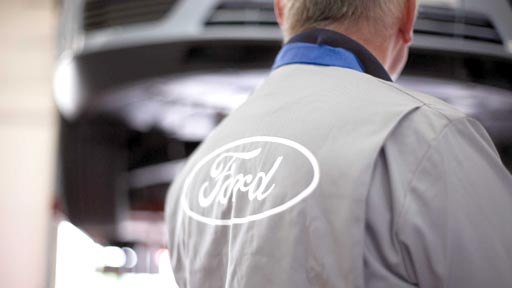 From beginning to end, you can trust Ford to take the best care of your vehicle. Whatever the accident damage, a Ford Accident Repair Centre is the place to get your vehicle back on the road and looking like new.
Why choose a Ford Accident Repair Centre?
You have the right to choose where your vehicle repair is carried out. Even if your insurance company specifies a particular repairer, the decision is still yours. Ford Accident Repair Centres are the natural choice for Ford vehicle repairs. We have the experience, knowledge and equipment to take care of your vehicle and fully meet your repair requirements. Our expertise means we can carry out everything from small cosmetic repairs to large complex ones.
All the right tools
With vehicles becoming every more technologically advanced, technicians now need specialist knowledge to give your vehicle the best possible care. For specified equipment and diagnostic tools help speed up repair times and technicians have online access to the latest Ford technical information. And with dedicated training for all Ford technicians we'll have your vehicle up and running in no time. But the benefits don't stop there:
We guarantee the quality of our repairs by providing a unique 3-year repair warranty and maintaining any remaining cover under the Ford perforation warranty.
We endeavour to use genuine Ford parts whenever possible.
Courtesy carts can be made available to enable you to stay on the road while work is carried out.
We're happy to help you complete your insurance claim and liaise with your insurer to gain authorisation to commence repairs.
From tools to knowledge, parts to training, a Ford Accident Repair Centre is truly the best place to get your vehicle back to its pre-accident condition.