Courtesy Car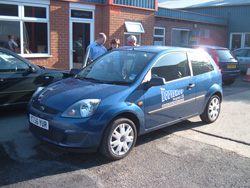 Customer Satisfaction within our accident management programme is our key focus and we aim to make your vehicle repair process personal, efficient and hassle free. To alleviate the inconvenience of being without your own vehicle whilst it is in for repair, we offer a free courtesy car service to get you back on the road immediately.
Whats more, whilst many insurance companies only provide a courtesy car whilst yours if off the road if you pay a premium on your policy, at the Bodyshop Skegness we endeavour to provide each fully comprehensively insured customer with a free courtesy car even if they do not pay for the privilege on their insurance policy, or if the policy is held with a Bodyshop Skegness non-approved insurer.
At the Bodyshop Skegness we continuously maintain a 20 car strong fleet of Class A courtesy cars.
It must be noted that this exclusive offer is subject to availability. You may be liaible for charges for damage, fuel consumed and valeting if excessively dirty. You will find more information about our Courtesy Cars in the
FAQ section
.